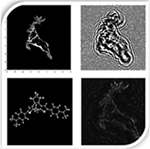 Tutors

: Andrea Bianco


Triennial/Master Thesis





Photochromic molecules

belonging to the class of diarylethenes and hydrazones are synthesized by the Comenius University (Bratislava, Slovakia).
Such new molecules show efficient chemical substituents that enhance the change in color and in the refractive index.
They can be used for the realization of high performance films for optical and photonics applications.

The work consists in the characterization of the molecules in solution and in thin films followed by the realization of devices.