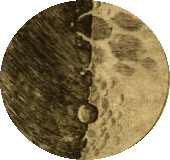 The OAB historical archive preserves observations books and diaries, calculations documents, pictures, notes, invitations, pass, travel reports. In addition more than fifteen thousand letters of astronomers like Laplace, Herschel, Secchi, but also Cesare Beccaria and Napoleone I.
Valuable is Giovanni Virginio Schiaparelli's "Fondo" which contains the diaries with the planet Mars observations. These diaries have been recently digitalized with the help of Fondazione Cariplo.
The OAB role in the country is showed by archive documents: the realization of sundial of Milano Cathedral Dome, the draft of Lombardia Map (1786), calendars and ephemerides compilations, meteorological data sets, the collaboration with administrative and legal authorities.
Historical archive is in OAB site of Milano and is open in consultation by appointment only from Monday to Friday from 9:30 to 16:00.
Archive Manager: Agnese Mandrino



Go to the archive Archive inventory.